Its DINE ABOUT Winnipeg time again and we're excited to get your reaction to this year's sensational tasting menu featuring pig cheeks from Ferme Jobin (while supplies last), a great northern white bean vegetarian cassoulet, big robust meaty bison, organic acorn squash sorbet, Sea buckthorn puree, a duck salad and more. This year we're offering an additional selection from the 'to begin' section  so you try even more tasty dishes.
Each delicious menu item will be paired with tasty terrific & unusual  anadian wine, local Craft Brew and culinary cocktail suggestions.
See the menu below and make your reservations now.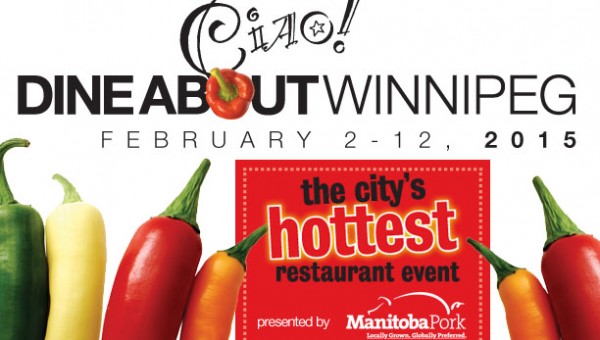 Menu
to begin and begin again
Beer braised pork cheeks (naturally raised, organic Berkshire) with sweet potato ravioli, dried cherry sauce, shaved parmesan and potato crisps
Selkirk rabbit tourtière with juniper berries, balsamic figs, red wine demi-glace carrot butter and Dijon mustard cream
Soup of Tomorrow: Announced Nightly
Add an additional course for $10
Main Course
Roast Manitoba bison striploin with green peppercorn demi-glace, garlic smashed potato, hollandaise, frizzled leeks and Yorkshire puddin',
Vegetarian cassoulet with great Northern white beans, curry spiced lentil sausage, aromatic vegetables, wild rice, barley and grains
King Cole duck breast with honey citrus glaze, shredded confit, walnuts, poached pear, sunflower seeds, endive, spinach and clover vinaigrette
Dessert
Warm Granny Smith apple crumble spiked with Screech, brown sugar, cinnamon, oats, Frosty Mountain vanilla ice cream and loads of homemade caramel sauce
Cinnamon and cayenne infused chocolate brownie with Frosty Mountain vanilla ice cream and Sambuca  honey sauce
Organic acorn squash sorbet with granola and Sea buckthorn puree
$38 plus tax and service
Make a reservation right now. Don't be disappointed.  Evenings will sell out. Items will run out. Be sure to tell us you want the DINE ABOUT menu.